Later, I was ready for a stress-free day of shopping, lunch and discovery. Lunch took place at The Blackbird Tavern + Kitchen, the brainchild of owner Patrick McPherson and Chef Molly Patrick.
With a 30+ local beer, wine and kombucha tap list, and a menu that is fiercely local, The Blackbird lived up to the hype. When I heard that an older couple drives hours each week to pick up two pounds of the house-smoked brisket, I knew what I was having for lunch.
After lunch, Northwesterners beeline for an afternoon coffee. I grabbed a pick-me-up from Atticus, a coffee shop and boutique where I shopped for local cards and handmade ceramics.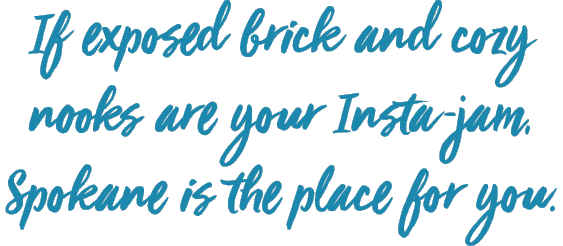 As I browsed, I couldn't help but admire the ways in which the business, like much of the city I'd already seen, incorporated its historic architecture with modern culture. The train that winds through the city, the river that provides its life blood and the meeting of industry with art all call for a photographer's experienced eye. If exposed brick and cozy, well-lit nooks off the beaten path are your Insta-jam, Spokane is the place for you.
Next, I wandered over to Boo Radley's—To Kill a Mockingbird district, anyone?—where I picked up the odd knickknacks and locally made goods that help explain spur-of-the-moment trips like mine to friends and family back home.